Registered under Govt of India (MSME):

Reg. No. JK-01-0003002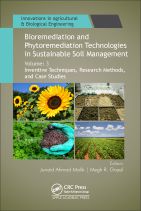 Bioremediation and Phytoremediation Technologies in Sustainable Soil Management- 3
Inventive Techniques, Research Methods, and Case Studies
Junaid Ahmad Malik, Megh R. Goyal
AAP, CRC Press (Taylor & Francis Group)
This new book, volume 3 of the four-volume set Bioremediation and Phytoremediation Technologies in Sustainable Soil Management identifies and draws a fresh image of existing developments in theoretical and functional implementation systems from recent scientific research studies that take into account different facets of bioremediation. It also discusses the latest technology and prospects of new soil bioremediation technology and analyses their domains, along with their associated challenges and consequences.
Preface

PART I: POTENTIAL OF PLANTS IN GREEN REMEDIATION
1. Bioremediation Potential of Pteridophytes
Sonia Sharma and Sushant Sharma

2. Potential of Ornamental Plants for Phytoremediation
Akanksha Kaushal, Megha Gupta, and Junaid Ahmad Malik

3. Bioremediation Potential of Helianthus annuus
Oluwasesan M. Bello, Mojeed O. Bello, and Abiodun B. Ogbesejana

4. Potential of Biofertilizers for Soil Enhancement: Study on Growth and Physiological and Biochemical Traits of Medicago sativa
R. Ben-Laouane, M. Ait-El-Mokhtar, M. Anli, A. Boutasknit, Y. Ait-Rahou, K. Oufdou, S. Wahbi, and A. Meddich

PART II: TOOLS AND TECHNIQUES FOR BIOREMEDIATION
5. Fungal Nanoparticles for Soil Health and Bioremediation
Hujjat Ul Baligah and M. H. Chesti

6. Exploring Toxic Heavy Metals Using Engineered Nanomaterials via Immobilization
Anandkumar Naorem and Shiva Kumar Udayana

7. Vermicomposting and Its Role in Agricultural Waste Management
Nowsheen Nazir, Aroosa Khalil, Kounser Javaid, Shemoo Nisar, Insha Majid, and Shazia Mubarak

8. Applications of Horizontal Gene Transfer in Soil Bioremediation
Ambika Prasad Mishra, Jyoti Prakash Sahoo, Purbasha Priyadarshini Padhi, Soumya Pattnaik, and Lopamudra Jena

9. In Vitro Screening of Heavy Metals: Seed Germination and Seedling Growth of Sorghum and Horse Gram
Thummala Chandrasekhar, M. Keerthi Kumari, and Pallaval Veera Bramhachari

10. Potential of Agricultural Waste (Rice Husk and Sweet Lime Peel) in Bioremediation of Se (IV) Ions from Wastewater
Amit Chattree, Shaziya Siddiqui, Imran Hasan, and Reena Mishra

PART III: REMEDIATION TECHNIQUES FOR SPECIAL SITES
11. Bioremediation of Polyethylenes and Plastics
Sumira Malik, Shilpa Prasad, Shashank Shekhar, Ankita Agarwal, and Shristi Kishore

12. Bioremediation of Pesticides Using Actinobacteria
Raman Kumar Ravi and Shalini Gupta

13. Fungal Remediation Technology for Refinery Waste Contaminated Soil
Shalini Gupta and Raman Kumar Ravi

14. Biodegradation and Ecotoxicity of Petroleum Hydrocarbons: Methodology for Lab- and Field-Scale Studies
Kondakindi Venkateswar Reddy, Chittari Amaravathi Sneha Latha Varma, Pabbati Ranjit, and Naga Raju Maddela

15. Bioreclamation of Sodic Soils for Sustainable Agriculture
Hitika Sharma, Drishtant Singh, Satwinder Kaur Sohal, and Samiksha Mahant

16. Applications of Gut Microbiota of Insects in Degradation of Lignocellulosic Biomass
Diksha, Sumit Singh, Satwinder Kaur Sohal, and Shallina Gupta

17. Plant-Mediated Techniques in Detoxification of Mercury Contaminated Soils
Sumira Malik, Shilpa Prasad, Shreya Ghoshal, Tanvi Kumari, and Shashank Shekhar

Index
About the Authors/Editors
Junaid Ahmad Malik, PhD
Lecturer, Department of Zoology, Government Degree College, Bijbehara, Kashmir (J&K), India

Junaid Ahmad Malik, PhD, is a Lecturer with the Department of Zoology at Government Degree College, Bijbehara, Kashmir (J&K), India, and is actively involved with teaching and research activities. He has more than eight years of research experience. His areas of interest are ecology, soil macrofauna, wildlife biology, conservation biology, etc. Dr. Malik has published 21 research articles and technical papers in international peer-reviewed journals and has authored and edited books, book chapters, and more than 10 popular editorial articles. He also serves as an editor and reviewer of several journals. He has participated in several state, national, and international conferences, seminars, workshops, and symposia and has more than 20 conference papers to his credit. He is a life member of the Society for Bioinformatics and Biological Sciences. Dr. Malik received his BSc degree from the University of Kashmir, Srinagar, J&K; his MSc in Zoology from Barkatullah University, Bhopal, Madhya Pradesh; and a PhD in Zoology from the same university. He completed his BEd program at the University of Kashmir, Srinagar, J&K, India.

Megh R. Goyal, PhD
Retired Professor in Agricultural and Biomedical Engineering, University of Puerto Rico, Mayaguez Campus; Senior Acquisitions Editor, Biomedical Engineering and Agricultural Science, Apple Academic Press, Inc.

Megh R. Goyal, PhD, PE, is a Retired Professor in Agricultural and Biomedical Engineering from the General Engineering Department in the College of Engineering at the University of Puerto Rico–Mayaguez Campus. He has worked as a Soil Conservation Inspector and as a Research Assistant at Haryana Agricultural University and Ohio State University. He was the first agricultural engineer to receive the professional license in Agricultural Engineering from the College of Engineers and Surveyors of Puerto Rico, and was proclaimed as the "Father of Irrigation Engineering in Puerto Rico for the twentieth century" by the ASABE, Puerto Rico Section, for his pioneering work on micro irrigation, evapotranspiration, agroclimatology, and soil and water engineering. During his professional career of over 52 years, he has received many prestigious awards. A prolific author and editor, he has written more than 200 journal articles and several textbooks and has edited over 85 books.